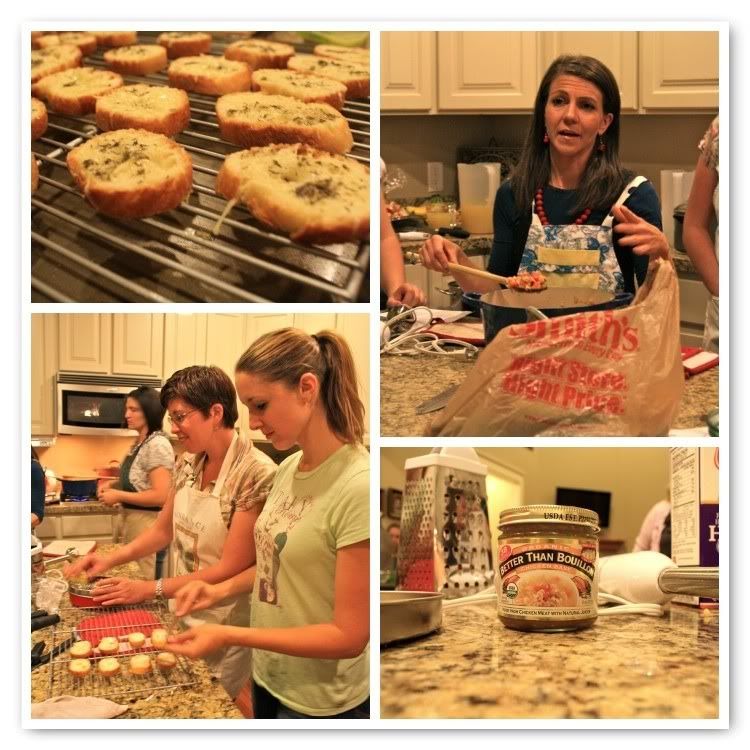 Last night we got together to make two fabulous soups. Perfect for Fall. Thanks so much to Lori Oehler for hosting.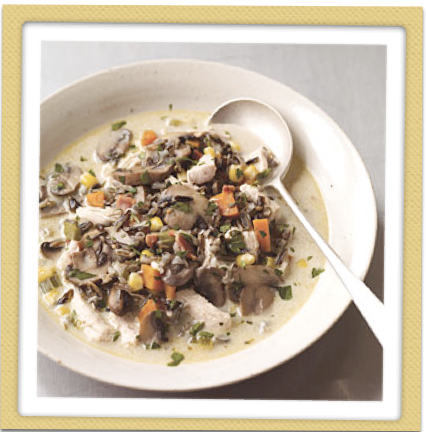 Wild Rice Soup
12 1/2 cups (or more) canned low-salt
1 1/4 cups wild rice (about 7 1/2 ounces)
6 1/4 cups frozen corn kernels (about 2 1/2
2 tablespoons vegetable oil
10 ounces fully cooked smoked sausage
(such as kielbasa), cut into 1/2-inch cubes
Bring 5 cups broth to simmer in heavy medium saucepan over medium heat. Add wild rice and
simmer until all liquid evaporates and rice is almost tender, stirring occasionally, about 40
Meanwhile, blend 3 3/4 cups corn and 1 1/2 cups chicken broth in processor until thick, almost
smooth puree forms. Heat vegetable oil in heavy large Dutch oven over medium-high heat. Add
sausage and sauté until beginning to brown, about 5 minutes. Add carrots and onions and stir 3
minutes. Add remaining 6 cups chicken broth and bring soup to simmer. Reduce heat to low
and simmer soup 15 minutes.
Add cooked wild rice, corn puree and remaining 2 1/2 cups corn kernels to soup. Cook until
wild rice is very tender and flavors blend, about 15 minutes longer. Mix in half and half. Thin
soup with more chicken broth, if desired. Season soup to taste with salt and pepper. (Soup can
be prepared 2 days ahead. Refrigerate until cold; cover and keep refrigerated. Rewarm soup
over medium-low heat before continuing.)
Butternut Squash Soup with Cider Cream and Gruyère Croutons
ingredien
5 tablespoons butter
5 tablespoons butter
2 1/2 pounds butternut squash, peeled, seeded, cut into 1/2-inch pieces (about 6 cups)
2 cups chopped leeks (white and pale green parts only)
1/2 cup chopped peeled carrot
1/2 cup chopped celery
2 small Granny Smith apples, peeled, cored, chopped
1 1/2 teaspoons dried thyme
1/2 teaspoon crumbled dried sage leaves
5 cups chicken stock or canned low-salt chicken broth
1 1/2 cups apple cider
2/3 cup sour cream
1/2 cup whipping cream
Chopped fresh chives


Melt butter in heavy large saucepan over medium-high heat. Add squash, leeks, carrot and celery; sauté until slightly softened, about 15 minutes. Mix in apples, thyme and sage. Add stock and 1 cup cider and bring to boil. Reduce heat to medium-low. Cover and simmer until apples are tender, stirring occasionally, about 30 minutes. Cool slightly.
Working in batches, purée soup in blender. Return soup to pan. Boil remaining 1/2 cup cider in heavy small saucepan until reduced to 1/4 cup, about 5 minutes. Cool. Place sour cream in small bowl. Whisk in reduced cider. (Soup and cider cream can be made 1 day ahead. Cover separately and refrigerate.)
Bring soup to simmer. Mix in whipping cream. Ladle soup into bowls. Drizzle with cider cream. Top with chives.
Croutons

2 tablespoons (1/4 stick) butter
24 1/4-inch-thick baguette bread slices
1 cup grated Gruyère cheese
1 teaspoon minced fresh thyme
1 teaspoon minced fresh sage
For croutons:
Preheat broiler. Butter 1 side of each bread slice. Arrange bread, buttered side up, on baking sheet. Broil until golden, about 1 minute. Turn over. Sprinkle cheese, the